02/12/08 21:54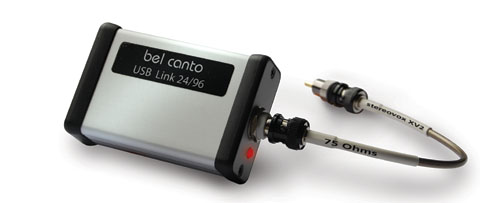 Ну на чем ведь и надо воспроизводить новые форматы высокого разрешения.
Тут конвертируем USB в 24 bits /96kHz и SPDIF В комплект входит кабель Stereovox SV2 BNC/BNC для подачи сигнала в ЦАП типа Bel Canto DAC3.
Тут что-то еще написано :
Convenient Audiophile Features
• Converts USB computer-sourced files to SPDIF output
• Compatible with native drivers on Mac and Windows
• Accepts high-resolution audio files with data rates up to 24 bits and 96KHz
• Quality Stereovox XV2 BNC/BNC with RCA adaptor connects to any quality DAC
• USB Link 24/96 disables system volume control
• Low-jitter clock recovery features reference crystal oscillator
• Self-powered via USB input benefiting from LC filters and low-noise local regulation
• Galvanic isolation between computer and audio system prevents high-frequency noise from polluting signal
MSRP: $495
Includes Stereovox XV2 BNC/BNC SPDIF cable with RCA Adaptor
23/11/08 15:52
Серия e. One от
Bel Canto Design
.
В нее входят усилители REF1000 MKII, REF500 и S500с улучшенными характеристиками. Частотный диапазон от 10 до 20 КГЦ, сигна/шум лучше на 6 дБ, сопротивления Caddock, дорогие электролитические конденсаторы.
REF1000 MKII и REF500 моноблоки поставляются со своими блоками питания.