03/12/08 12:03
Jean-Michel Jarre
разработал мини-систему Aerosystems (449 Евро), как пишут для «настоящих аудиофилов». Тех, которые слушают MP3 на iPod 4th generation (color display), iPod 5th generation ,iPod mini, iPod nano, Pod touch, и iPhone 3G. Даже есть какая-то система восстановления низких и высоких частот пожатых форматов.
02/12/08 21:14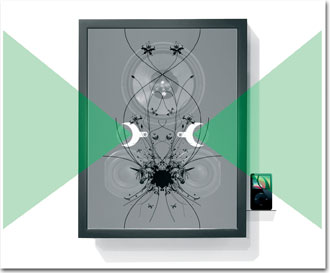 Artcoustic выпустил серию SUPERSTAR™.
Этот беспредел SUPERSTAR висит на стене, при этом там и усилитель 2 x 150 и 2 твитера и сабвуфер. Предназначено для бутиков и ресторанов или просто озабоченных гламуром особ. Совместим с IPod®, iPhone®, Airport Express®, Sonos®, Squeeze Box®, Bose®, Bang и Olufsen®
Краткие характеристики этого чуда:
* Powered stereo speaker in one slim line, wall hanging cabinet.
* Built-in, 2 x 150 Watt, fan cooled amplifier with signal sensing turn on and off, and short protection
* Three-way full range music center: 2x 1.5" HF drivers; 2x 5.5" LF-MF drivers; 1x 10" subwoofer
* Inputs for iPod and Bang and Olufsen music systems
* Mini USB port for charging source unit
* Onboard gain and DSP bass shaping control settings.
* Frequency Response: 30Hz to 40kHz
* Sound Pressure Level: 93 dB; Max SPL 106 dB avg. 4 Ohm continuous power handling 120W
* Wide range of custom art screens available or use one's own art files.
* Dimensions: 25.6" x 19.7" x 5.1" (H x W x D)
* Weight: 40 lbs.
20/11/08 17:31
Большинство моделей современной техники оснащается разъемами для iPod или iPhone. Усилители — не исключение. Компания
Krell Industries
, стремящаяся соответствовать потребностям современного рынка, выпустила новый встраиваемый усилитель S-300i, совместимый как с iPod, так и с iPhone.
Read More...